Spring Wire Coatings for Corrosion Resistance and Enhanced Finish
Central Wire produces a full line of economical and cost saving coatings for stainless steel and corrosion resistance nickel alloy spring wires. Central Wire's soap and nickel flash coatings enable a higher level of productivity. Wire produced with a specialty coating exhibits excellent coilability at high speeds and often requires no additional lubricant during manufacture. Coatings on spring wires reduce the stress on coiling equipment, extending equipment life and minimizing down time. Whether you need a nickel flash coating, or a copper with soap coating, CWI has you covered.
Central Wire's specialty coatings also enhance the look and performance of stainless steel and corrosion resistant nickel alloy springs. They have proven to enhance corrosion resistance and maintain a bright, finished look over extended periods. All coatings are tested under rigorous quality assurance programs, ensuring consistency in the most severe processing conditions and performance in the most stressful applications.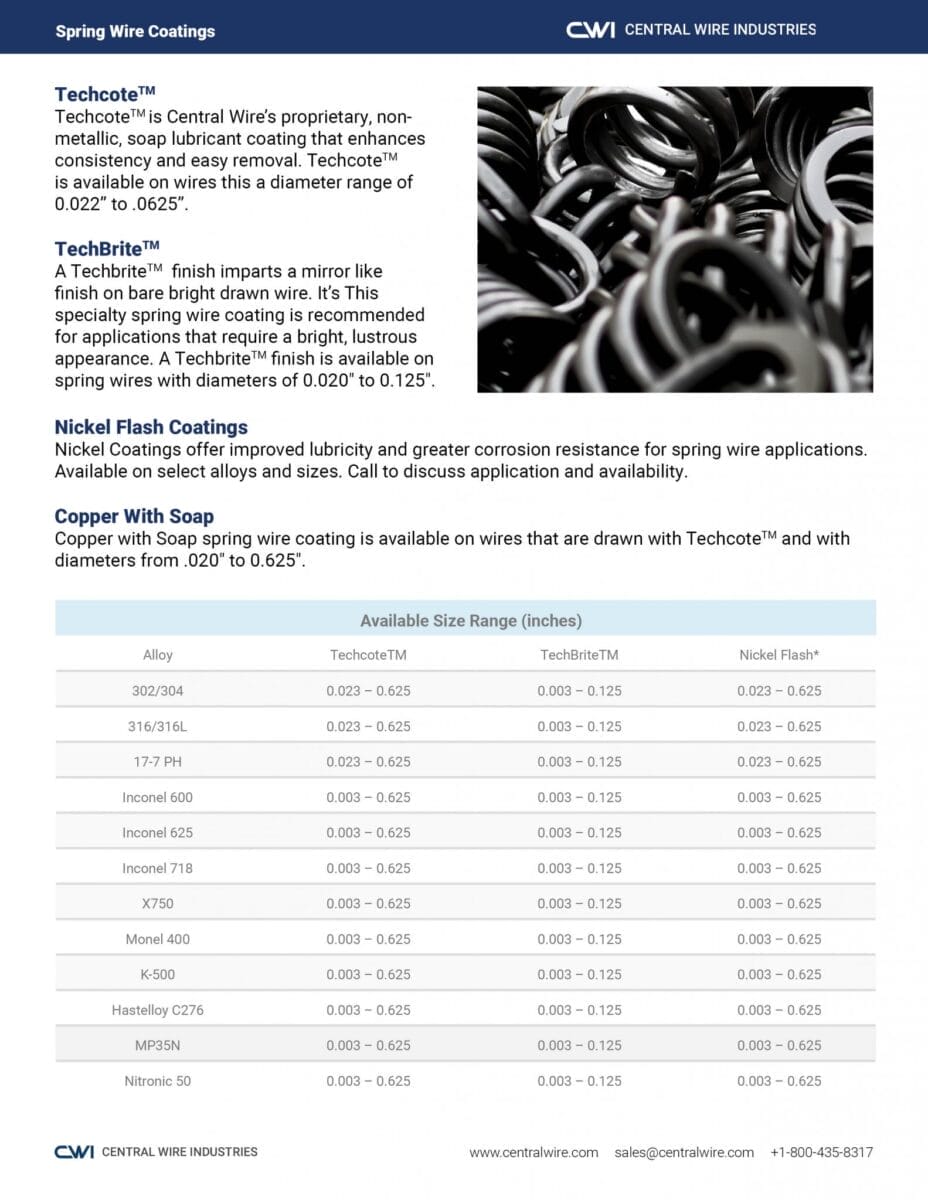 Download our Spring Wire Coatings Guide
TechcoteTM is Central Wire's proprietary, non-metallic, soap lubricant coating that enhances consistency and easy removal. TechcoteTM is available on wires this a diameter range of 0.022" to .0625". 
A TechbriteTM  finish imparts a mirror like finish on bare bright drawn wire. It's This specialty  coating is recommended for applications that require a bright, lustrous appearance. A TechbriteTM finish is available on spring wires with diameters of 0.020" to 0.125".  
Nickel Coatings offer improved lubricity and greater corrosion resistance for spring wire applications. Available on select alloys and sizes. Call to discuss application and availability.
Copper with Soap wire coating is available on wires that are drawn with TechcoteTM and with diameters from .020" to 0.625".
Availability of Coating Types by Size and Alloy


Available Size Range (inches)
Alloy
TechcoteTM
TechBriteTM
Nickel Flash*
302/304
0.023 - 0.625
0.003 - 0.125
0.023 - 0.625
316/316L
0.023 - 0.625
0.003 - 0.125
0.023 - 0.625
17-7 PH
0.023 - 0.625
0.003 - 0.125
0.023 - 0.625
Inconel 600
0.003 - 0.625
0.003 - 0.125
0.003 - 0.625
Inconel 625
0.003 - 0.625
0.003 - 0.125
0.003 - 0.625
Inconel 718
0.003 - 0.625
0.003 - 0.125
0.003 - 0.625
X750
0.003 - 0.625
0.003 - 0.125
0.003 - 0.625
Monel 400
0.003 - 0.625
0.003 - 0.125
0.003 - 0.625
K-500
0.003 - 0.625
0.003 - 0.125
0.003 - 0.625
Hastelloy C276
0.003 - 0.625
0.003 - 0.125
0.003 - 0.625
MP35N
0.003 - 0.625
0.003 - 0.125
0.003 - 0.625
Nitronic 50
0.003 - 0.625
0.003 - 0.125
0.003 - 0.625
*Call for availability by specific size