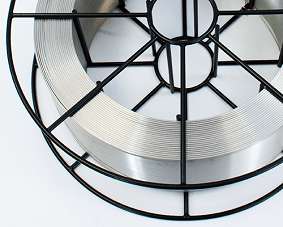 GEN 308LSI WELDING WIRE AND ROD
CWI Generation4™ Stainless Steel Alloys
GEN 308LSI Welding Wire is used for TIG, MIG and SAW. This alloy contains a higher silicon content, which gives it improved wetting action, better arc stability, and a smoother bead appearance. Our GEN 308LSI is good for general purpose MIG welding because it provides a smooth weld profile in welding applications of stainless steel plate and sheets. This has the same chemical composition as GEN 308, except the higher silicon content. This is suitable welding wire for stainless steel type 304 and 308.
GEN 308LSI is often used for applications in the energy industry. As hydrogen energy sources continue to increase, this alloy is an ideal choice to maintain chemical stability. Liquified natural gas (LNG) is one of the cleanest fossil fuels. If your business needs a welding wire or rod for cryogenic welding in the hydrogen or LNG industry, consider Central Wire's GEN 308LSI stainless steel alloy.
All welding products are supplied with a certificate of conformance stating physical and mechanical properties including alloy chemistry. Every welding product is manufactured to have its own unique lot identification number for full lot traceability.
Multiple packaging and shipping options are available from our facilities in the US, Canada, and the UK. Learn more about our products, the industries and applications we support, and how CWI Generation4™ welding wire can work for you.
While you're looking at welding wire, here are Three Reasons To Source Your Welding Wire and Demister Pads Together. By ordering all your turnaround supplies from CWI, you can reduce downtime, perform maintenance all at once, and work confidently knowing you are receiving only the highest quality products from a trusted manufacturer.
| | C | Cr | Ni | Mo | Mn | Si | P | S | Cu |
| --- | --- | --- | --- | --- | --- | --- | --- | --- | --- |
| Min | 0.018 | 19.81 | 9.65 | 0.08 | 1.89 | 0.85 | 0.02 | 0.011 | 0.15 |
| Max | 0.03 | 19.5 — 22.0 | 9.0 — 11.0 | 0.75 | 1.0 — 2.5 | 0.65 — 1.00 | 0.03 | 0.03 | 0.75 |
Mechanical Properties
Conformances
Documents
Mechanical Properties
Typical Weld Metal Mechanical Properties
Tensile Strength: 87,000 psi 600 MPa
Strength: 59,000 psi 407 MPa
Elongation: 40%
Conformances
Documents