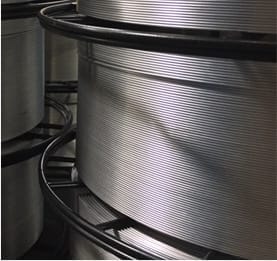 GEN 55 WELDING WIRE AND ROD
CWI Generation4™ Nickel Alloys
Like GEN 99, GEN 55 is used for GMAW and GTAW welding of cast iron. It is also employed to weld cast irons to mild steels.  The mixture of aluminum, silicon and iron makes it moderately hard, however, the wire can be machined using carbide tipped tools. To avoid cracking, a pre‐heat and minimum interpass temperature of 350°F (175°C) is recommended during welding.  
All Welding products are supplied with a certificate of conformance stating physical and mechanical properties including alloy chemistry. Every welding product is manufactured to have its own unique lot identification number for full lot traceability.
Multiple packaging and shipping options are available from our facilities in the US, Canada, and the UK. Learn more about our products, the industries and applications we support, and how CWI Generation4™ welding wire can work for you.
While you're looking at welding wire, here are Three Reasons To Source Your Welding Wire and Demister Pads Together. By ordering all your turnaround supplies from CWI, you can reduce downtime, perform maintenance all at once, and work confidently knowing you are receiving only the highest quality products from a trusted manufacturer.
| | C | Mn | Ni | Cu | Al | Si | Fe | S |
| --- | --- | --- | --- | --- | --- | --- | --- | --- |
| Min | 0.635 | 0.44 | 55.2 | 0.60 | 0.003 | 0.14 | 42.89 | 0.002 |
| Max | 2.0 | 2.5 | 45 — 60 | 2.5 | 1.0 | 4.0 | Rem. | 0.03 |
Mechanical Properties
Conformances
Documents
Mechanical Properties
Typical Weld Metal Mechanical Properties

Tensile Strength: 84,000 psi 579 MPa
Yield Strength: 59,500 psi 410 MPa
Elongation: 30%
Conformances
Documents