The quality of every little part of an item increases the reliability of the completed project. Bolts may be among the smallest parts of an airplane, but no traveler wants to hear that low-end or faulty ones were used. Here at Central Wire Industries, we appreciate the importance of the small parts to which we contribute via cold-heading material and bar stock.
Among our offerings are profile wire, ultra-fine wire, wire rope, and aircraft cable; our wire is used in fasteners, cable, and cable assemblies. Those fasteners and cables are used widely, worldwide, in industries that include automotive, aerospace, medical, and marine. If we are your OEM, you can count on the quality of the product you receive.
Different final products need to meet different specifications. We can provide materials for highly specific mil-spec applications that require U.S.-made materials. All our materials will meet your high-quality standards.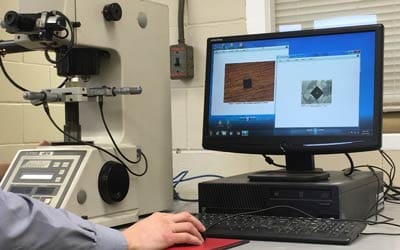 Having the most recent ISO 9001 and AS9100 certifications help us ensure our quality also equals consistency. This matters from beginning to the end of the formation of a product. The quality and consistency of the steel matter in the quality and consistency of an airplane or car. At CWI our products must pass multiple checks.
For cold-heading materials, for example, we ensure material consistency in seven ways:
Mechanical testing measures tensile strength
Analysis verifies coating consistency and performance under pressure
Microscopy evaluation for grain structure and surface quality
Onsite positive material identification
DFARS (Defense Federal Acquisition Regulation Supplement) compliance
Heavy duty bar stock packaging
We also offer special high-quality protective paper and plastic shrink wrap to produce your order. Additionally, at any stage in the process, from planning to packing, CWI experts will work with you to create quality designs of products and packaging to fit your exact needs. Reach out to us for quality service and wire.
Sharing is caring!